Last Updated on January 31, 2023 by ghisellerousso
After an extended period of travel restrictions and disruptions due to COVID-19, many countries have removed most of their pandemic restrictions. With the loosening of COVID-19 protocols, people are eager and more confident to travel internationally in 2023. Many scuba divers who have missed the beauty of the marine world are looking forward to visiting new diving destinations and revisiting old favorite sites. Here are some of the top diving destinations to consider this year.
United Arab Emirates (UAE) 
The United Arab Emirates (UAE) is a dynamic country where tradition, culture, and history meet with technology and modernity. This rich country has many historic sights, incredible skyscrapers, luxurious resorts, and amazing dive sites. This year is a perfect opportunity to visit or revisit this country.
Dubai is a must-visit emirate, especially for scuba divers because of its incredible dive sites that are home to a wide variety of marine life including sea turtles, rays, and over 300 species of fish. Interesting dive sites to check out in Dubai are Palm Jumeirah, Jumeirah Beach, and Deep Dive Dubai. For wreck diving enthusiasts, you can experience deep sea diving Dubai by exploring Zainab, Mariam Express, Cement Barge, and Sheikh Mohammed's Barge.
Fujairah is another great destination in the UAE. The warm waters of Fujairah emerge from the Gulf of Oman and the Arabian Sea. Certified divers can spend the day exploring the untouched reefs and small wrecks. It's also perfect for night diving.
If you want to see stunning fjords, you might want to visit Musandam. Tagged as "Norway of the Middle East", this unique place is noted for its drop-offs and nutrient-rich waters that attract 900 species of fish and a wide range of marine creatures from small to pelagic.
*Travelers to the UAE are no longer required to present a negative PCR test result or a COVID-19 vaccination certificate.
Egypt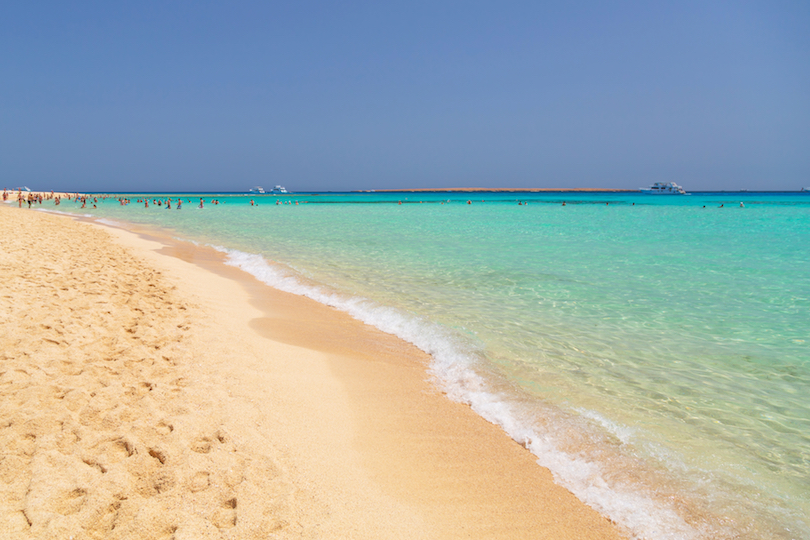 Marsa Alam, Egypt is another great place to explore for the first time or return to this 2023. Known for its pristine reefs and more than 200 species of corals, this underwater environment is home to a variety of marine life including 1,200 species of bony fish. Dolphins such as bottlenose dolphins and spinner dolphins are often spotted in Marsa Alam. These intelligent and playful creatures are fond of following boats. Hawksbill turtles often visit these waters to feed on sponges found in the corals. If you're interested in diving in Egypt, you can contact our dive shop Dubai to know about our different trip schedules.
* As per CDC, all eligible travelers going to Egypt should be up to date with their COVID-19 vaccines.
Maldives
Pristine white sand, clear blue waters, and year-round tropical climate make the Maldives a postcard-perfect travel destination. This paradise has 26 natural coral atolls that are known for their high density of underwater life.
Sea turtles including Green Turtles, Hawksbills, and Loggerheads may be spotted in these waters. Green turtles are named after the greenish color of their skin. These turtles are one of the largest sea turtles in the world because they can weigh up to 700 pounds. Hawksbill turtles can be recognized through their tapered heads and pointed mouths that look like a bird's beak. These beautiful turtles are critically endangered due to the tortoise shell trade. Loggerheads have huge heads that can measure up to 10 inches. They have strong jaw muscles that enable them to crush their favorite treats like crabs, clams, sea urchins, and mussels. Loggerheads are also considered endangered species because of pollution, habitat degradation, fishing, and direct harvest.
Manta rays travel across these atolls with the changing monsoons. A great treat for scuba divers is encountering a huge number of manta rays feeding. Whale sharks also feed in these rich waters. You can encounter cruising eagle rays, spotted eagle rays, and large marbled rays. Maldives is also home to reef sharks including gray reef sharks, whitetip, and blacktip sharks.
* As per CDC, all eligible travelers going to Maldives should be up to date with their COVID-19 vaccines.
Pack your bags and travel in 2023
This year is a great opportunity to explore new locations and revisit old favorite dive sites. The UAE, Egypt, and Maldives are perfect travel destinations in 2023. Scuba divers can explore the different dive sites in these countries and make new memories.