Last Updated on April 18, 2023 by Tabraiz
Winter requires you to wear warm and protective clothing. For some, it might be frustrating, but if you are a stylish guy winter must excite you. Cold weather presents you with an opportunity to dress stylishly.
Unlike hot summer, where you have limited options to enhance your appearance, winter opens up your styling options. You put on more clothes during winter and hence have more items to play with to enhance your overall appearance.
Outerwear is a major part of putting on a dashing appearance. Its primary purpose is to keep you warm but if worn correctly, it can drastically improve your attractiveness. Similarly, if you are sluggish in your outerwear choices, you will end up ruining your impression.
The outerwear – either a jacket or a coat is the most visible among all your clothing items. Hence if you want to dress stylishly, you have to prioritize your outerwear.
Jacket vs Coat
Jackets and coats are terms that are used interchangeably for winter outerwear. However, the two are not the same. The main difference between a jacket and a coat is its length. Coats are generally longer than jackets. Design-wise, coats enhance the silhouette of the body and give the wearer a clean and sharp look.
Nowadays, you will find many items having characteristics of both jacket and coat. However, a true coat with a traditional design has a class of its own.
Stylish Guys Wear Coats!
Well, there is no rule that says you have to wear a coat to appear stylish. You can opt for a well-made jacket and still appear dashing. However, generally, when it comes to the overall elegance and appearance-enhancing qualities, coats have an upper hand over jackets.
So, for a guy looking to appear elegant without diving too deep into the ocean of style knowledge, then opting for a coat is an easier way to look more stylish.
The Winter Coats
Winter coats come in various styles and forms. Each one is different in look from the other and is designed to serve a particular purpose. Here are a few of the popular coat designs.
Blazer
Blazers are worn both during summer and winter. Putting on a blazer is one of the easiest ways to make your appearance formal. During winter though, you can also put on a warm blazer casually.
The darker the color and cleaner the look, the more formal your blazer will appear. Light-colored blazers made from textured or patterned fabric are seen as casual. Hence, having a few blazers in your wardrobe will help you dress stylishly for both formal occasions and casual outings.
Trench Coat
Trench coats are long coats worn usually as the uttermost layer. They come with either collars or lapels. The length of the trench coats varies – there are longer ones and mid-length ones.
Trench coats are warm, thick, and elegant looking. Trench coats are usually made with wool. Originally used by military men, trench coats have a clean and classy outlook. For guys aiming to dress sharply, trench coats are the way to go.
Liner Coat
Liner coats are usually worn as an inner layer or a top layer. As the outermost layer, liner coats are meant to be light. These coats have a straight collar as opposed to lapels featured in the above-mentioned styles of coats.
Some Recommendations
If you are looking for some cool looking Men's Winter Coats that will make you look stylish and elegant, here are a few recommendations.
Men's Winter Woolen Mid-Long Herringbone Trench Coat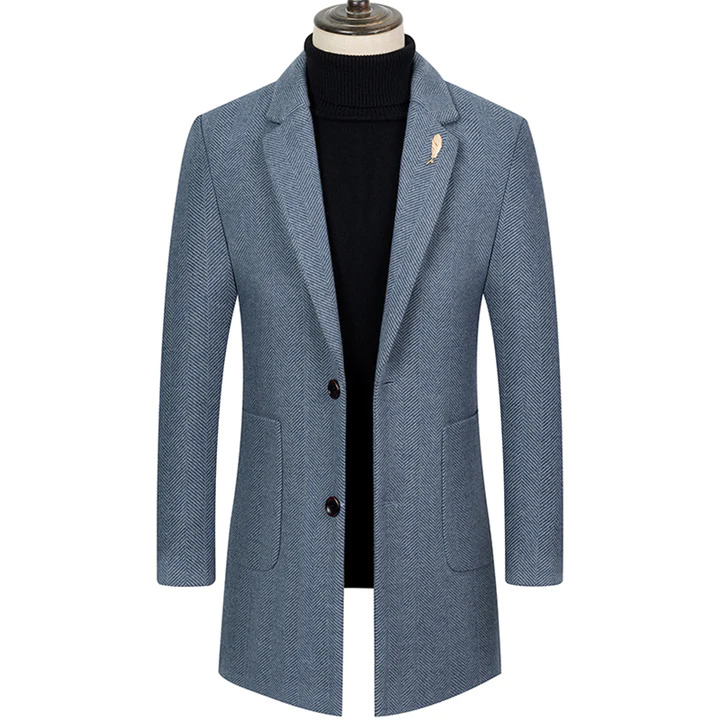 This trench coat is made from polyester. This looks amazing and is super easy to carry. Available in 3 colors and all sizes, this coat is apt for all the stylish guys out there. This coat features a notch lapel and a two-button single-breasted front closure. This coat is sure to make you look amazing and keep you warm.
Men's Winter Woolen Casual Retro Slim Fit Blazer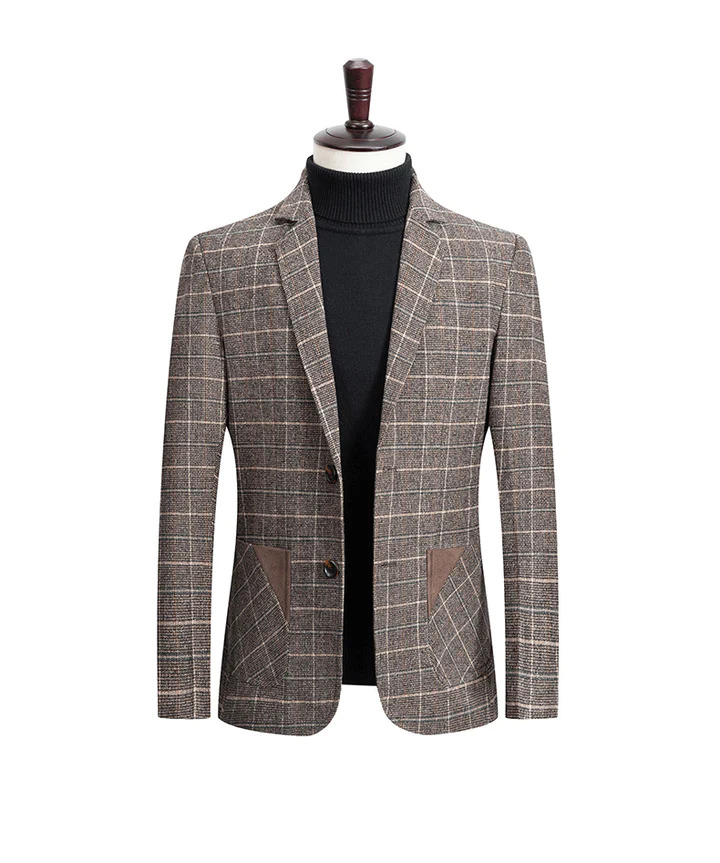 This stylish blazer is available in neutral colors (brown and gray) and features a window pane pattern. With a classic notch lapel of medium width and a two-button single-breasted closure, this blazer is extremely versatile. This blazer comes with two pockets on the outside and one on the inside.
Men's Winter Woolen Mid-Long Trench Coat
This long trench coat is available in black and gray. This comes with a notch lapel and single-breasted and three-button closure.
Men's Winter Solid Woolen Mid-Long Trench Coat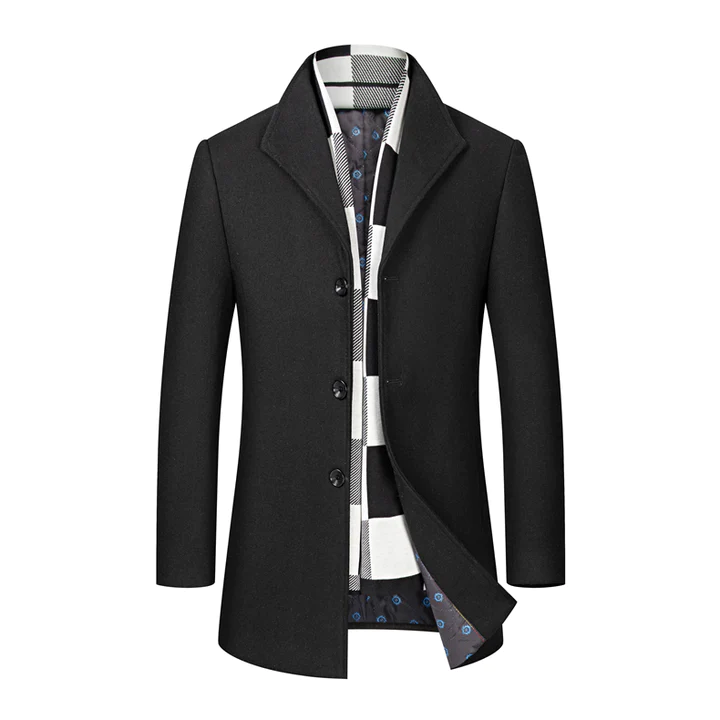 This woolen trench coat has an attractive wide coat collar and a single-breasted 3-button closure. With no pockets on the outside, this coat has a clean and minimal design that adds to its elegance. There is still space for your belongings though – two pockets on the inside.
Buying tips
When buying a winter coat, you must make sure you get the right one. Always buy a coat that fits you properly – that is the first tip you need to follow. Here are three more…
Know your style
You can buy an amazing-looking coat but that doesn't make you look stylish. To appear stylish in a coat, it must go well with other items in the outfit.
Hence, it's important that you understand the look you are trying to achieve and then combine all the right items with your coat to get the look.
Learn to judge the quality
It pays to know what a good quality coat looks and feels like. Understanding the quality of the material and knowing how to judge the construction of the coat helps a lot in making the right choice.
If you can't judge the quality yourself, do a little research or ask someone who has more understanding regarding the matter.
Look for discounts
Another important thing to consider when shopping for coats is to shop at discounted prices. Look for clearance sales and special event discounts – so you can get your favorite item at a lower price.
End note
Putting on a coat over your outfit is the easiest way to ensure you look awesome and stay warm during winter. However, getting your hands on a good coat is one thing, and styling it properly is another.
Once you buy your favorite winter coat, try different outfit combinations with it and see which ones work the best for you. Lastly, you can order any one of the recommended options and rock it to look stylish.