Last Updated on December 2, 2022 by
When the weather is cold, it's nice to wear an oversized, cozy layering style. Ponchos are loose-fitting garments with a hole in the center for your head and a slouchy design. Ponchos are not well-suited to being styled because they don't hold their shape. When styling an oversized item of clothing, you may be unsure how to style it to look flattering, but a poncho can help. This guide is all about how to wear a poncho with different methods.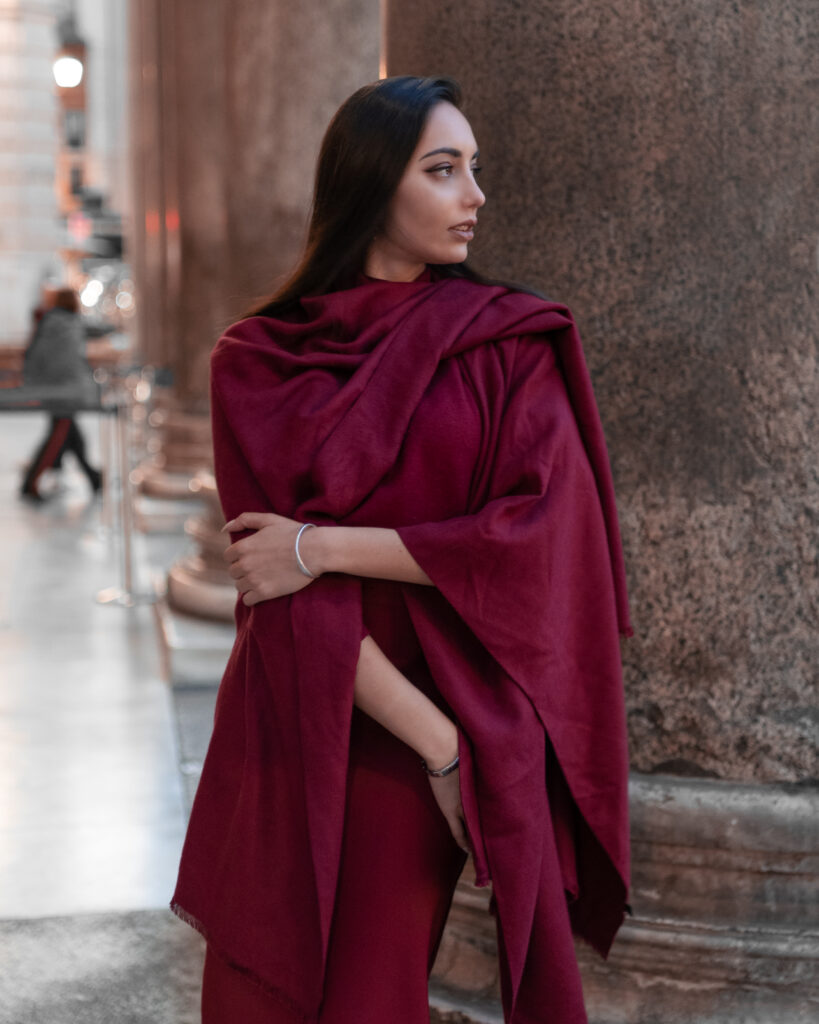 Things to know before wearing a poncho
Ponchos work well with skin-tight jeans, leather leggings, and sort of skirts paired with tights because the balance of the garment gives your top more volume, giving the overall appearance of a more put-together look.
It is better to avoid wearing tops with frills or ruched details to make the poncho look lumpy. When your poncho has openings for the sleeves, choose a top that has sleeves. Your poncho will look even better when you do this.
The first step to balancing the volume is to wear a smaller size. The fabric on a poncho is bulky and flowy on top, so it should be combined with clothing with a slim fit at the bottom to manage its bulky top.
Keep the top simple and streamlined. A simple top should always be worn underneath your poncho. It's easy to dress up in tank tops or simple shirts and t-shirts.
Top 8 best methods about how to wear a poncho
1. A gray wrap dress and black ankle bootie
Ponchos are a perfect outfit choice when worn with dresses. Adding a layer of warmth to your winter clothing is easy, thanks to the wide range of styles available. Dresses look great with boots or booties, but you can also wear them with flats or sneakers, depending on what you are planning.
Read more:An Ultimate Guide About Top 9 Best Short Nail Styles with Extra Tips
If you're trying to create a more formal look, a dress is an excellent choice due to its versatility. In addition to dressing appropriately for dinner or a night on the town, you should take care to dress appropriately for more informal and formal settings. You may wear any undergarments you prefer under your poncho. You can complete the look by wearing your favorite ankle boots or knee-high booties.
2. Converse, striped crop top, and white shorts
Adding a poncho to your striped tank top and denim shorts adds sophistication to the look. Keeping it hip would be easier if you paired it with black sneakers and black rounded sunglasses.
3. All-naked and all-white look for friends.
Putting together an appealing ensemble is easier and faster when you have a poncho. Then you could wear a poncho of the same color or another color.
If you want to add some color and pattern to plain clothing, you can wear a poncho. Your outfit will be more refined by wearing a belt, and the poncho will not overshadow it. The waistline can be defined with a broad or thin belt if the poncho or vest is open.
4. Wear your Plaid Poncho with Black Jeans And A White Turtleneck
Using a poncho well means experimenting with different layering techniques. Solid turtlenecks, short a-line skirts, and sweater dresses are standard options for executing this look. You can make a poncho the centerpiece of your ensemble by wearing either of these pieces. This cloth would be unexpected to drape over your shoulders but still feel warm and polished.
5. Wearing heels instead of boots would also work.
In general, riding boots or over-the-knee boots are accentuated by the inherent slouchy nature of the poncho. According to resources, these trendy boot styles have a new edge suitable for daily wear. To make it more acceptable for a date night, replace your structured boots with shiny heels. You will further enhance your look with the two-tone design of this block heel sandal.
6. Black Leggings and A White Button-Up Shirt
What makes this outfit so great is how easy it is to execute. You can accomplish this stunning appearance by wearing a white button-up shirt and black poncho. To create this basic and beautiful look, pair this dress with black leggings and loafers.
7. The mustard skirt and poncho set.
It is possible to pair almost anything with a matching set, and ponchos are no exception. You can easily style this set by layering it with a good sweater, and you're set. Consider a matching poncho set if you're looking for an item that looks sophisticated but is easy to style.
8. Jeans and Knee-High Boots With A Plaid Poncho
Various ways can be worn with ponchos, which can also be fashionable. Ponchos can even be turned into dresses if they're long enough.
By adding a belt to a poncho, you create an hourglass profile that is ladylike and sassy. One can wear a poncho in thousands of different ways, and one may start with modest ensembles and progress to more extravagant ones. You can use several tried-and-true combinations to style this layer when you're stuck. The look is completed by a plaid poncho, white shirt, ripped trousers, and cream-grey high boots.
On what occasion should we wear the poncho?
The versatility of ponchos allows them to be worn on various occasions. You can style this tee in various ways, from casual to dressy.
With some skinnies or flared bottoms, ponchos in a muted and neutral tone will look great with casual clothing. You can run errands in this outfit with sneakers or flats.
Consider ponchos in vibrant colors for a festive or party look. If you want to rock the entire look, pair it with heels or boots. Opt for a monochrome ensemble and some pumps or sandals for a more stylish and glamorous look for work. For a festive or party style, search for shawls in bright colors. To rock the entire face, wear it with a stylish pair of heels or boots.
FAQs (Frequently Asked Questions)