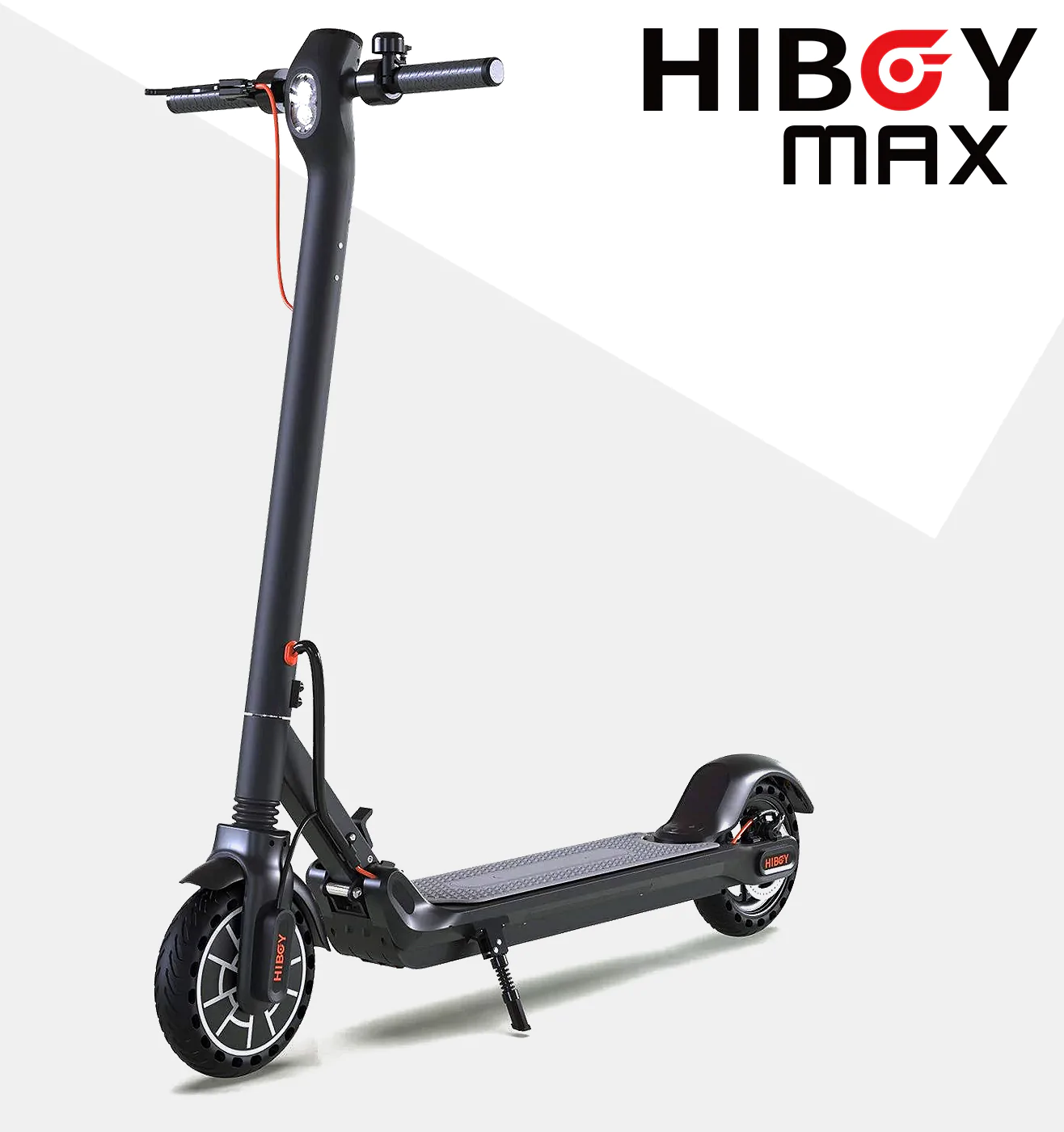 Last Updated on April 18, 2023 by Tabraiz
The Hiboy Max Electric Scooter is one of the most popular electric scooters on the market today, and for good reason. This sleek, lightweight scooter can take you anywhere you need to go, making it a great choice for commuters, students, and recreational riders alike. With its powerful motor, long-range battery, and stylish design, the Hiboy Max Electric Scooter is a great choice for anyone looking for an affordable and reliable way to get around town. In this review, we'll discuss why we love the Hiboy Max Electric Scooter so much, from its features to its performance.
Specs and Features
The Hiboy Max electric scooter is a top-of-the-line ride for commuters looking for a reliable and efficient way to get around town. This hiboy scooter features a powerful 350-watt motor that can reach speeds up to 15.5 mph and can climb hills up to 20 degrees. The 8-inch solid rubber tires are durable, non-slip, and provide a smooth ride on any surface. In addition, the rear-wheel drive system provides better control and stability on turns, while the dual braking system (mechanical and electronic) offers safe and responsive stopping power. Other features include an adjustable handlebar height, front, and rear LED lights, a built-in LCD display for tracking speed, distance, battery life, and more.
Assembly
The Hiboy Max electric scooter is relatively easy to assemble. All you need is a few basic tools, and you should be able to get your Hiboy scooter ready for use in under 30 minutes.
The assembly process consists of connecting the handlebar to the main frame with four M8 bolts. After that, you will need to attach the front wheel, the kickstand, and the rear brake handle. These parts are easy to install and should take no more than 15 minutes.
Finally, you will need to attach the battery and power up your Hiboy scooter. The battery comes with a charger, so you simply plug it in, turn it on, and wait until the battery indicator light turns green. This will indicate that the battery has reached its full charge.
Once all these steps are completed, your Hiboy scooter is ready for use!
Riding Experience
The hiboy max electric scooter is a blast to ride! It has plenty of power, easily reaching speeds of 15-20 mph. The acceleration is smooth and responsive. We found it easy to maneuver around obstacles and even more fun when going off-road. The front and rear suspension give you a comfortable ride, absorbing bumps and shocks on the road. We love that the handlebar can be adjusted for different heights, making it ideal for riders of all sizes. The hiboy scooter also has a kickstand which allows you to park it conveniently wherever you go.
Range
The Hiboy Max electric scooter is equipped with a powerful 350-watt motor that can take you up to 15 miles on a single charge. With a top speed of 15.5 mph, you can get where you need to go quickly and efficiently. The range of the hiboy scooter is more than enough for most everyday rides and its battery will last for about 2-3 hours of continuous use. The battery also charges relatively quickly, taking around 3-4 hours to reach full capacity.
Pros and Cons
When it comes to the Hiboy Max Electric Scooter, it has a lot of great features that make it an excellent choice. The most notable advantages of the Hiboy scooter include its high speed, strong motor, good range, and comfortable ride. In addition, it is easy to assemble and is relatively lightweight, making it easy to transport.
On the other hand, there are also some drawbacks to this electric scooter. For instance, the battery can be tricky to charge and may require you to buy an additional charger. Additionally, the handlebars are quite narrow, so riders with bigger hands may feel uncomfortable. Finally, the brakes can be somewhat sensitive which might take some getting used to.
Overall, the Hiboy Max Electric Scooter is a great option for riders who are looking for an efficient and fun way to get around town. Its high speeds and good range make it a great choice for those who want to get from A to B quickly and without worrying about running out of power. However, it does have some drawbacks that should be taken into consideration before purchasing.